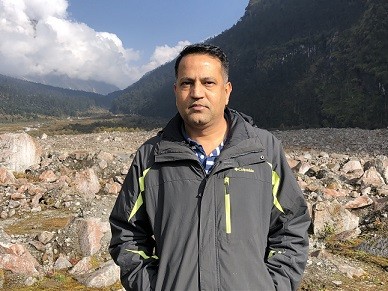 Dr. Ajay Kumar Bhardwaj is a Principal Scientist at the Central Soil Salinity Research Institute, Karnal, India. He is also an Adjunct Professor/ PG Teacher at the University of Horticultural Sciences, Bagalkot, India, since 2013, and at CCS Haryana Agricultural University, Hisar, India, since 2018. He holds a Ph.D. in Soil Science from the CSK Himachal Pradesh Agricultural University, Palampur, India (2003). Broadly his work involves discovering interactions of chemical, physical and hydrological processes in agroecosystems to develop environmentally and socio-economically sustainable solutions. His team uses interdisciplinary and stakeholder participatory approaches to study the impacts and solve the issues. His current areas of interest include exploring climate change mitigation and adaptation strategies for salt-affected land areas, and development of enhanced efficiency nano-materials for environmental remediation and land productivity enhancement. He has authored over 60 research articles, including a book on ecological implications of 2nd and 3rd generation cellulosic and conventional bioenergy feedstocks: "Sustainable Biofuels: An Ecological Assessment of the Future Energy" (jointly published by DeGruyter, Germany and Higher Education Press, China, 2014). He has served as a reviewer for scientific assessments/ project grants by the National Research Foundation (NRF) of South Africa, US Department of Energy (DOE), Hungarian Scientific Research Fund (OTKA), Netherlands Organization for Scientific Research (NWO), and Department of Science and Technology (DST), India.
Dr. Bhardwaj has been Lal Bahadur Shastri Outstanding Young Scientist Awardee (2015, ICAR-DARE, Government of India) and UNESCO-TWAS Associate Scientist Awardee (2014, The World Academy of Sciences, Italy). He has bagged several national and international fellowships including those from Indian National Science Academy, India, The World Academy of Sciences, Italy, and MASHAV, Israel for collaborative research with the Indian Institute of Technology (IIT), Kanpur, the National Institute of Theoretical and Applied Physical Chemistry (INIFTA), Argentina, and The Agricultural Research Organization (ARO) of Israel. In the past, he had his post-doctoral association with the North Carolina State University (NCSU), USA, the Vulcani Center, Israel, and the Great Lakes Bioenergy Research Center (GLBRC) at Michigan State University, USA, and his work involved wastewater remediation and use for crop production in arid climates, soil erosion and water quality improvement, bioenergy/ biofuel sustainability, and exploring hydrological and water use related implications of diverse agro-ecological management conditions.

Research areas: Sustainability, agro-ecosystems, natural resources conservation, climate change, GHG emissions, soil salinity, biogeoscience.