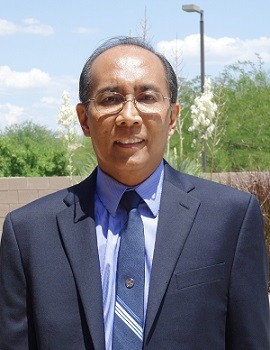 Soe Myint is presently serving as Meadows Endowed Chair Professor in the Department of Geography and Environmental Studies at Texas State University and Chief Conservation Officer in the Meadows Center for Water and the Environment. He is a member of the NASA ECOSTRESS Science and Applications team and NASA Land Cover and Land Use Change team. He has served as Fulbright Canada Research Chair in Water, Environment, and Clean Energy.
Myint received an Outstanding Achievement Award from the American Association of Geographers (AAG) Remote Sensing Specialty group (2016); Prominent Alumnus of the Asian Institute of Technology (2014); Best Paper Award for Early Career Scholars in Remote Sensing (2007 AAG); Asian Institute of Technology Alumni Association's Distinguished Alumni Award for Academic and Research Excellence (2007); US Geological Survey scholar award at an International Conference on GIScience (2000); Intergraph Young Scholar award from the University Consortium for Geographic Information Science (2002); Chinese Professional in Geographic Information Systems Scholar of 2005; and best student paper award at the Mid-South Region American Society for Photogrammetry and Remote Sensing (ASPRS) meeting at Clemson University, South Carolina (2000). He was nominated for the Zebulon Pearce Distinguished Teaching Award for tenured and tenure-track faculty members (2017) and invited as an Honored Guest (2009) by the ASU College of Liberal Arts and Sciences "for making difference" in multiple undergraduate students' education. During his graduate studies, he received four best student paper awards and two 2nd-best paper awards at different national, international, and regional professional meetings.
He has published approximately 110 papers and his grant funding (NSF, NASA, NOAA) exceeds 4.5 million dollars. Myint was an active member of the ASPRS for the Pacific Southwest region, which elected him to serve as director (2006-2007), membership chair (2006), Awards Committee chair (2007-2008), and vice president (2008). In 2009, he was elected to serve as president of the ASPRS Pacific Southwest region. Between 2008 and 2017, he was elected to several leadership roles at the American Association of Geographers (AAG), serving as member of scholarship committee (2016-2017), chair (2011-2013), vice chair (2009-2011), director (2008-2009), and special session chair (2008) of the AAG's Remote Sensing Specialty Group.
Research areas: His research focuses on deforestation, land degradation, ecosystem services, urban and agriculture water use, atmospheric emission, climate adaptation, drought, surface and ground water changes, land use land cover change, landscape modeling, simulation and growth prediction, land fragmentation, evapotranspiration modeling, urban climate change, variation, and extreme, human-environment interactions, and geospatial algorithm development.