Nutrient dynamics in the Sundarbans mangrove estuarine system of Bangladesh under different weather and tidal cycles
Ecological Processes
2013
2:29
Received: 13 May 2013
Accepted: 12 September 2013
Published: 2 October 2013
Abstract
Introduction
Seasonal and tidal variations in nutrient concentration and water quality were investigated in the western Sundarbans of Bangladesh during the post-monsoon, winter and monsoon seasons during 2010–2011.
Methods
Water collected from the surface, middle and bottom layers at six locations of the Kholpetua-Arpangashia river system during high and low tides was analyzed for temperature, salinity, pH, dissolved oxygen (DO), total dissolved solids (TDS), electrical conductivity (EC) and dissolved nutrients (NO3–N, PO4–P, SO4 and NH3–N).
Results
The study revealed that nutrient concentrations were influenced by seasonal changes. Mean nutrient levels during post-monsoon, winter and monsoon seasons, respectively, were in the following ranges: nitrate (0.06–0.40, 0.06–0.46 and 0.08–0.46 mg/L); phosphate (0.09–0.18, 0.05–0.42 and 0.10–0.16 mg/L); sulphate (58.71–86.14, 68.68–119.01 and 78.15–136.47 mg/L) and ammonia (0.02–0.08, 0.02–0.04 and 0.26–0.38 mg/L). Increased levels of PO4–P, SO4 and NH3–N and lower DO and salinity were recorded during the monsoon period. Most of the experimental sites showed higher NO3–N content during monsoon, whereas few elevated concentrations were observed during post-monsoon and winter periods. High and low tidal waters contained mean nutrient levels in the following ranges: nitrate (0.05–0.46 and 0.04–0.40 mg/L); phosphate (0.05–0.42 and 0.07–0.18 mg/L); sulphate (63.63–125.36 and 58.71–136.47 mg/L) and ammonia (0.02–0.38 and 0.02–0.37 mg/L) without following any distinct fluctuation patterns. The western part of the Sundarbans receives less freshwater input during the monsoon season than other areas of the ecosystem, which reduces the variability of nutrient levels and water quality components.
Conclusions
This study provides considerable advances in understanding the seasonality of nutrient distribution with possible tidal influence. The data generated from this study will guide continuing efforts to support a sound management for coastal mangrove ecosystems.
Keywords
SundarbansMonsoonPost-monsoonNitratePhosphateSulphateAmmoniaAquatic ecosystemWater qualityRiver
Introduction
The Sundarbans, the largest single tract of mangrove ecosystem in the world, is important from both ecological and economic perspectives. This pristine ecosystem was declared as Ramsar site no. 560 in 1992 and as a World Heritage site by UNESCO in 1997. Its ecological importance is associated with its rich biodiversity and the ecosystem's valuable services. The Sundarbans is home to an estimated 505 species of wildlife, including 355 species of birds, 49 species of mammals, 87 species of reptiles, 14 species of amphibians as well as emblematic species such as the Bengal tiger. Additionally, there are about 234 species of flora and more than 300 species of fish, including 237 species of finfish, 38 species of shellfish and 34 species of mollusks to enrich the ecosystem. Sundarbans acts as a buffer, protecting inhabitants of numerous human settlements against cyclones, rising sea levels and other hazardous weather events. In addition to its ecological functions, the Sundarbans also directly and indirectly supports the livelihoods of about 7 million people living in the vicinity of the forest.
The hydro-geochemical environment of the Sundarbans is highly dynamic in nature with numerous drainage channels and significant coastal processes. Being in the coastal waters, the abiotic and biotic resources of the Sundarbans are highly variable in response to the coastal dynamic processes. Inland waters from some major river systems flow through this intertidal mangrove forest, contributing to the deposition of substantial amounts of suspended matter, nutrients, heavy metals and other compounds. As a consequence of both natural and anthropogenic activities, the valuable ecosystem of Sundarbans has been subjected to considerable degradation. In addition human activities such as resource collection, fishing, shrimp farming, agriculture, and tourism, also interfere the dynamic coastal ecosystem.
Saltwater and freshwater meet in the rivers in the Sundarbans. Thus, it is a region of transition between the freshwater of the rivers originating from the Ganges and the saline water of the Bay of Bengal. Rupsha, Passur, Shibsa, Bhola, Baleswar, Arpangashia, Kholpetua, Malancha and other rivers open into the Bay of Bengal through the Sundarbans Reserve Forest and carry large amounts of nutrients that vary with tides and seasons, affecting the productivity in the area. These regions also play an important role in processing nutrients exchanged between land and sea (Eyre and Twigg 1997). Globally, estuarine nutrient loads have steadily increased in recent decades coincident with rises in the human population and industry. Such increases may boost primary production and provide either an additional sink and/or source for carbon as well as for phosphorus, nitrate and sulphate in coastal waters. The role of estuarine processes in modifying the chemistry of the materials accumulating and passing through this interface has so far been little studied. Coonley et al. (1971), Sholkovitz (1976) and Gobeil et al. (1981) studied geochemical processes, such as precipitation and flocculation of the dissolved and colloidal substances, while Yeats and Bewers (1982) investigated desorption-adsorption phenomena, chemical diagnosis and exchange with the bottom sediments within the mixing zone.
Nutrients in water play an important role in the lives of aquatic organisms including fish. Water nitrogen is found both as inorganic and organic species and in dissolved and particulate forms. Inorganic nitrogen exists both as oxidized species [e.g., nitrate (NO3-) and nitrite (NO2-)] and reduced species [e.g., ammonia (NH4++NH3) and nitrogen gas (N2)]. Water pH regulates the occurrence of different forms of ammonia. Phosphorus is found in water bodies in dissolved and particulate forms. Dissolved phosphorus is readily available for plants and consists of inorganic orthophosphate (e.g., H2PO4-, HPO42-, PO43-) and organic phosphorus-containing compounds (DOP). The particulate phosphorus pool consists of plants and animals and their remains, phosphorus in minerals (e.g., fluorapatite) and phosphate adsorbed onto iron oxyhydroxides on mineral surfaces. All aquatic organisms including fish depend directly on nutrients for their survival, growth and reproduction. Some nutrient levels are related to the chlorophyll availability of the water body, which means the availability of phytoplankton in the water. Thus nutrient availability is directly related to the productivity of the water body. A shortage of nutrients causes the water body to be unproductive. An excess of nutrients causes eutrophication by algal bloom and makes the water toxic. So, nutrient concentration must be within an acceptable limit for a good aquatic environment and for better production of aquatic organisms including fish.
Despite the importance of understanding the water quality of such intertidal mangrove ecosystems, very few attempts have been made to investigate the issues. The present study has been undertaken to quantify some major nutrients at different depths and locations and to calculate tidal and seasonal fluctuations in nutrient concentrations from upstream to downstream in the Kholpetua-Arpangashia river system (RS) of the Sundarbans mangrove forest. The study will provide an ecological baseline for the World Heritage site and serves as a basis for establishing monitoring programs and predicting changes at sites with high hydrological variations.
Methods
Study area
The western Sundarbans, where Kholpetua-Arpangashia RS is located, was selected for the present study. Field observation was conducted at six stations, namely Pashurtala, Pashurtala Canal, Kalagachhi, Kalagachhi Canal, Nildumur and Arpangashia, which are situated at different locations of the RS (Figure
1
). The geographical locations of the study sites and their depths at high and low tides are shown in Table
1
. The sampled sites are characterized by semi-diurnal tides and strong currents. Comprehensive field measurements were made under different climatic conditions—post-monsoon (October 2010), winter (February 2011) and monsoon (August 2011)—and at different tidal cycles.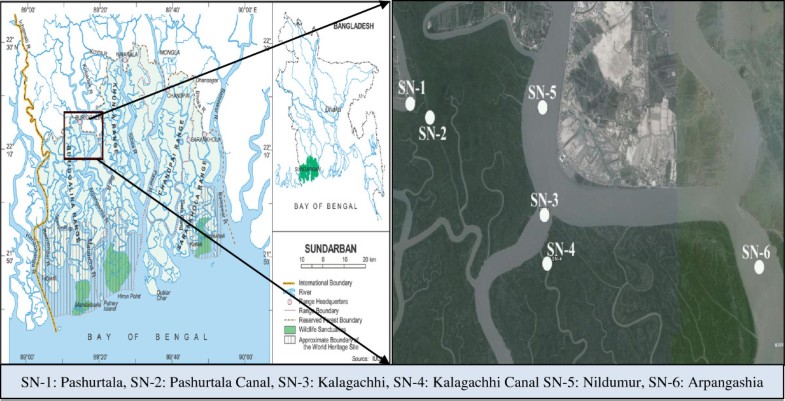 Table 1
Geographical location of the study points and their water depths at high and low tides during sampling
Sampling station

Longitude

Latitude

Water depth (m)

High tide

Low tide

Pashurtala

89°11′59.18″ E

22°14′8.10″ N

15.9

12.5

Pashurtala Canal

89°12′21.30″ E

22°14′1.45″ N

3.7

1.6

Kalagachhi

89°14′37.35″ E

22°12′56.10″ N

11.4

6.6

Kalagachhi Canal

89°14′42.12″ E

22°12′21.34″ N

5.2

3.2

Nildumur

89°14′32.17″ E

22°14′13.38″ N

10.9

10.1

Arpangashia

89°18′51.14″ E

22°12′16.50″ N

11.6

9.8
Sampling and experimental set-up
Seasonal and tidal monitoring of physicochemical parameters and major nutrients was undertaken for the surface, middle and bottom layers of each water body. For in-situ measurement and laboratory analysis, water samples were collected from the three discrete layers of the selected measuring stations during post-monsoon, winter and monsoon seasons under both high and low tide conditions. Ruttner Water Sampler and DO Sampler were deployed with marked ropes to collect samples from the required depths. During in-situ measurement, water salinity was measured by refractometer (ATAGO S/Mill-E), while temperature and pH were measured by digital thermometer with stainless steel sensor probe and HANNA Microprocessor pH meter (HI, pH 211), respectively. Winkler's method (APHA 1992) was followed during measurement of dissolved oxygen (DO), and total dissolved solids (TDS) and conductivity were identified with the help of a multi-parameter water test kit.
For laboratory analysis, water samples were taken into 250 ml plastic bottles, immediately preserved in an icebox, and later carried to the laboratory for nutrient analysis. Nutrient parameters were analyzed in the water chemistry laboratory of the Fisheries and Marine Resource Technology Discipline, Khulna University. During analysis of nutrient concentration, the ascorbic acid method was used for phosphate and sulphate, and Nesslerization and phenol disulphonic acid methods were used for ammonia and nitrate, respectively. A highly equipped spectrophotometer was used for estimating the concentration of water nutrients.
Conclusions
The present study summarizes the seasonal and tidal fluctuations in nutrient levels and various physicochemical parameters in the river waters of the Sundarbans mangrove estuary. The results indicate that the nutrients are significantly affected by seasonal changes and to some extent by variations in tidal height also. However, in most cases, water quality was not found to follow any distinct tidal fluctuation pattern. The highest concentrations for PO4–P, SO4 and NH3–N and comparatively lower values for DO and salinity were observed during the monsoon season. NO3–N showed higher levels at most of the experimental sites during monsoon, whereas elevated concentrations were also observed at some sampling points during the post-monsoon and winter periods. The west part of the mangrove forest, which is characterized by higher salinity throughout the year than the other parts of the Sundarbans, showed extremely high ammonia levels during monsoon. As huge agricultural and aquaculture activities are conducted in the periphery of western Sundarbans, considerable amounts of washed-out inorganic fertilizers might contribute to this increased ammonia level during the rainy season. In comparison to other parts of the Sundarbans, however, the western region does not otherwise show alarming deterioration in water quality as the adjacent coastal land, although heavily used for farming, has yet to go through mass industrialization. However, increasing agriculture activities, shrimp farming and human settlement, uncontrolled deforestation, restricted fresh water supply from upstream due to the Farakka barrage, increasing river siltation, unscientific changes in land use, and climate change all still pose threats to the water quality of the river as well as to the whole mangrove ecosystem. It is hoped that the findings of the study will be useful in developing policies for mangrove ecosystem conservation and management in Bangladesh.
Declarations
Acknowledgements
Ministry of Education, Government of the Peoples' Republic of Bangladesh provided the necessary financial support under the Grants for Advanced Research in Science to carry out the present study. The authors would like to acknowledge the support of the laboratory staff of the Fisheries and Marine Resource Technology Discipline and Environmental Science Discipline of Khulna University during sample analysis in the laboratory. Thanks are due to the graduate and undergraduate students for their generous cooperation during field observation, in-situ measurement and laboratory analysis. Support of the authorities of the Forest Department of Bangladesh are appreciated. The authors would like to thank two anonymous reviewers for their valuable comments and suggestions that helped improve the manuscript.
Authors' Affiliations
(1)
Fisheries and Marine Resource Technology Discipline, Khulna University, Khulna, Bangladesh
(2)
Chemistry Department, Comilla University, Comilla, Bangladesh
Copyright
© Rahaman et al.; licensee Springer. 2013
This article is published under license to BioMed Central Ltd. This is an Open Access article distributed under the terms of the Creative Commons Attribution License (http://creativecommons.org/licenses/by/2.0), which permits unrestricted use, distribution, and reproduction in any medium, provided the original work is properly cited.