Cultural and health implications of fish advisories in a Native American community
Ecological Processes
2013
2:4
Received: 13 December 2012
Accepted: 12 February 2013
Published: 12 March 2013
Abstract
Introduction
Fish advisories are issued in an effort to protect human health from exposure to contaminants, but Native American communities may suffer unintended health, social, and cultural consequences as a result of warnings against eating local fish. This paper focuses on the Mohawk community of Akwesasne, which lies downstream from a Superfund site, and explores how fish advisories have impacted fish consumption and health.
Methods
65 Akwesasne community members were interviewed between March 2008 and April 2009. Interviews were semi-structured, lasted from 30–90 minutes and consisted of open-ended questions about the impacts of environmental contamination on the community. Detailed field notes were also maintained during extensive visits between 2007–2011. Interviews were transcribed, and these transcripts as well as the field notes were analyzed in NVivo 8.0. This research received approval from the Akwesasne Task Force on the Environment Research Advisory Committee, as well as the Brown University Institutional Review Board.
Results
Three-quarters of the 50 Akwesasne Mohawks interviewed have ceased or significantly curtailed their local fish consumption due to the issuance of fish advisories or witnessing or hearing about deformities on fish. Many of these respondents have turned to outside sources of fish, from other communities or from grocery stores. This change in fish consumption concerns many residents because cultural and social connections developed around fishing are being lost and because fish has been replaced with high-fat high-carb processed foods, which has led to other health complications. One-quarter of the 50 interviewees still eat local fish, but these are generally middle-aged or older residents; fish consumption no longer occurs in the multi-generational social context it once did.
Conclusions
Human health in Native American communities such as Akwesasne is intimately tied to the health of the environment. Fish advisories should not be used as an institutional control to protect humans from exposure to contaminants; if Akwesasne are to achieve optimal health, the contaminated environment has to be remediated to a level that supports clean, edible fish.
Keywords
Fish advisoriesNative AmericanMohawkHaudenosauneePCBsSuperfundSt. Lawrence RiverHealth risk assessment
Introduction
We turn our minds to all the Fish life in the water. They were instructed to cleanse and purify the water. They also give themselves to us as food. We are grateful that we can still find pure water. So, we turn now to the Fish and send our greetings and thanks.
Now our minds are one.
-Haudenosaunee Thanksgiving Address (Patterson 1999)
For traditional Haudenosaunee (also known as Iroquois) people, the Ohenton Kariwatehkwen or "Thanksgiving Address" is recited at the opening and closing of important events, as a reminder of essential elements to be collectively thankful for. The translated excerpt above highlights the importance of fish, which historically were an important source of food for many Haudenosaunee nations, including the Mohawk.a In communities such as Akwesasne, the relationship between fish—whose duty it is to cleanse the water and offer themselves as food—and humans—whose role it is to respectfully harvest these fish—has been interrupted by environmental contamination. Because concepts of health for Mohawk people extend beyond the individual to the community and the environment (Arquette et al. 2002), this interrupted relationship with the fish has resulted in altered diets with resulting health impacts, and the fear that language and culture related to fish will be lost.
Much of the literature on fish advisories has focused on concerns about whether these advisories properly inform minority subsistence fishermen and their families about the risks of consuming contaminated fish (Chess et al. 2005; Beehler et al. 2003; Tan et al. 2011; Imm et al. 2005). Following a conventional human health risk model in which prevention of exposure protects health, the goal of much of this scholarship is ensuring that the fish avoidance message reaches all audiences. Less focus has been given to the impact on communities who follow these advisories, and the feasibility of ever reversing the impact of these advisories even after site cleanup.
Through interviews with Akwesasne Mohawk community members and environmental officials, I explore the impact fish advisories have had on this community, the extent to which the community decreased or ceased their fish consumption, and the unintended health and cultural consequences of fish advisories. I also explore the motivations of people who have decided to continue to eat fish despite the advisories, and conclude with a discussion of future research and outreach needed in the community. The overarching message conveyed by community members and scholars who are pushing for more holistic forms of risk assessment (Arquette et al. 2002; Ranco et al. 2011; Harper et al. 2012; Donatuto and Harper 2008) is that optimum human health cannot be achieved in Native American communities such as Akwesasne until ecological health is achieved as well.
Background
Akwesasne is a Mohawk community of about 13–15,000 people
b
that shares borders with New York, Ontario, and Quebec. Located at the confluence of four rivers—the St. Regis River, the Raquette River, the Grasse River, and the St. Lawrence River—the community relied for generations on the abundance of fish and wildlife, as well as the rich alluvial soils for farms (see Figure
1
).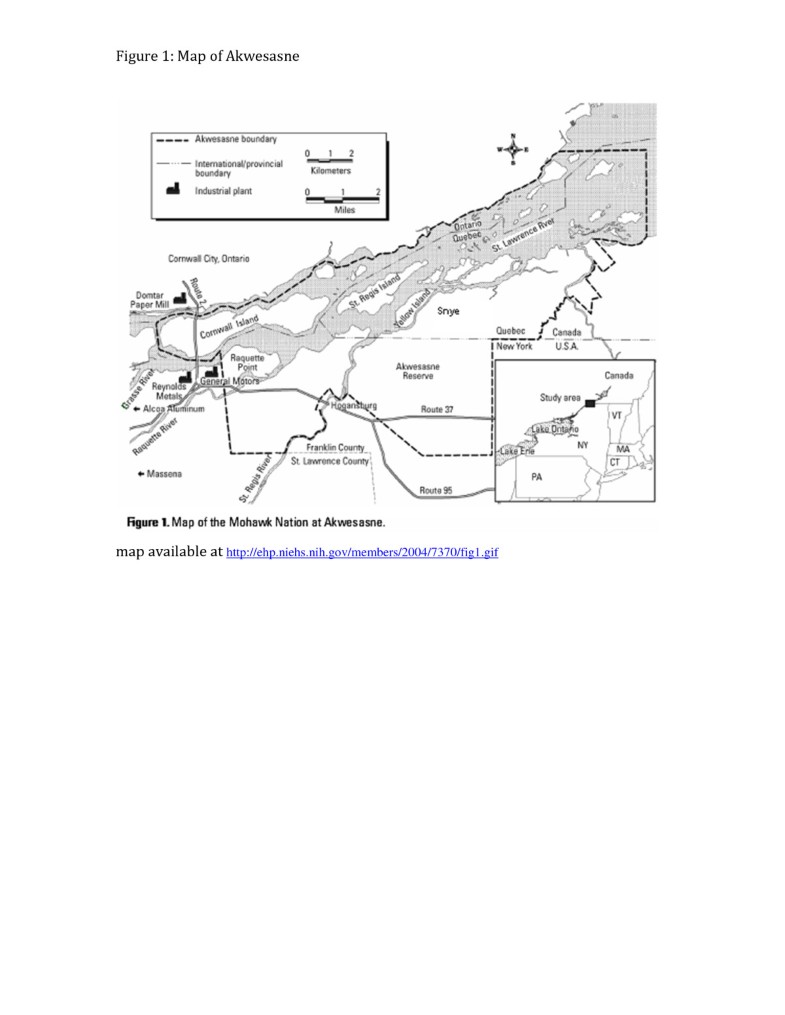 The St. Lawrence Seaway project, begun in 1954, widened and deepened the river, and created a series of canals and locks that opened the region to ocean-going vessels. In 1957 the Moses-Saunders Power Dam was constructed on the St. Lawrence River and attracted industry with its low-cost hydroelectricity. The Aluminum Company of America (ALCOA) had already established a factory a few miles west of Akwesasne in 1903 on the Grasse River and was joined by the General Motors (GM) aluminum plant in 1958 and Reynolds Metals in 1959, both just west of the reservation, upstream and upwind. On the Canadian side of the river, a paper mill was built in 1881, which was acquired by Dominion Tar & Chemical in 1961 and rebranded as Domtar in 1965.
In 1976 Health and Welfare Canada approached the Mohawk Council of Akwesasne (MCA), the tribal government for the northern half of the community, to determine if there were elevated mercury levels in the people of Akwesasne, since mercury had been identified as a problem in Native communities across Canada. The presence of paper companies such as Domtar adjacent to, and upstream from, Akwesasne led to the concern that mercury could be a threat to this community as well. In 1978 MCA took samples of fish and found PCBs, mercury, and Mirex, which led them to recommend that women of childbearing age, children under 15, and pregnant women cease consumption of fish from the St. Lawrence (Hauptmann 1988:64).
In 1981, two dormant sludge pits filled with polychlorinated biphenyls (PCBs) were discovered behind GM, adjacent to the Raquette Point region of the reservation, and by 1984 the entire 270 acre General Motors site was declared a Superfund site. Following tests done by a NY State wildlife epidemiologist that found high levels of PCBs in fish and aquatic wildlife, an official three-part health risk assessment was developed that examined contaminant levels in fish (Sloan and Jock 1990), wildlife (Skinner 1992) and breast milk (Fitzgerald et al. 1992). Sloan and Jock (1990:26) found that "PCB, dioxin, and mercury throughout the study area exceeded criteria for the protection of piscivorous wildlife." Tests done on 343 fish collected from 12 locations on the St. Lawrence River near the GM site showed total PCB levels ranging between 3 ppm and 8,000 ppm (lipid basis), which exceeded the tolerance limits established by the federal government of 2 ppm (wet weight) (Kinney et al. 1997:314).
Following tests done around the GM Superfund site, the Health Service for the St. Regis Mohawk Tribe (SRMT), the tribal government for the southern half of the community, issued an advisory in July of 1986 recommending that women of childbearing age, pregnant and nursing women, and children under 15 should entirely avoid the consumption of contaminated fish. They also gave a list of species for everyone to avoid, and a separate list from which residents should only eat one half pound per week.c This news further destroyed the local fishing economy, which had previously supported a number of Mohawk families and had already begun to diminish after the MCA fish advisory.
The results of the breast milk section of the health risk assessment (Fitzgerald et al. 1992), as well as continued studies that resulted from a partnership between the Akwesasne community and the State University of New York (SUNY) at Albany, demonstrated that fish consumption led to higher levels of PCBs in Akwesasne residents. Fingerprinting analyses established that fish caught in the St. Lawrence River offshore from the GM site were contaminated with the same lightly chlorinated PCB congeners as the sediment collected offshore from the GM plant. This contamination was primarily Aroclor 1248, the PCB mixture used in GM's die casting machinery (Hwang et al. 1993; Fitzgerald et al. 1995). This contamination was then traced from fish to humans: breast milk samples from women who ate local fish had a congener pattern that was much closer to perch, the preferred species of fish, than that found in women who ate little or no fish (Fitzgerald et al. 1998; Hwang et al. 2001). Similarly, Mohawk men who ate the most fish had a congener pattern similar to the fish studied (although their serum was more likely to contain more chlorinated PCB mixtures such as Aroclor 1254 and 1260, which have been traced to the Great Lakes, than the local mixture, Aroclor 1248) (Fitzgerald et al. 2007). This series of studies was significant because it demonstrated how PCBs could be fingerprinted as they migrated offsite from an industrial source, and traced into fish and then humans. Many Mohawks I spoke with referred to the St. Lawrence as the "lifeblood" of the community. By the contamination of the river, and hence the fish, Mohawk bodies were subsequently contaminated as well. Therefore cessation of fish consumption, which distanced Mohawks from this river, was lauded by the public health community as a means for preventing further exposure to contamination.
Environmental health studies conducted by the SUNY Albany research team and the Akwesasne community extended into a second Superfund Basic Research Project grant from 1995–2000. Papers published based on this project demonstrated that higher PCB levels in Mohawk participants were potentially connected to abnormal thyroid functioning in adolescents (Schell et al. 2004, 2008, 2009; Schell and Gallo 2010); diabetes (Codru et al. 2007); higher levels of total serum lipids that contribute to heart disease (Goncharov et al. 2008); altered cognitive function in adolescents (Newman et al. 2006, 2009) as well as altered cognitive function in older adults (Haase et al. 2009); earlier onset of menarche in girls (Denham et al. 2005); and reduced testosterone levels in men (Goncharov et al. 2009).
The General Motors Superfund site has been undergoing remediation for decades but may finally be nearing completion. The Environmental Protection Agency (EPA) issued a Record of Decision in 1990 for GM's wastewater lagoons and the contaminated adjacent river sediment and in 1992 for GM's industrial landfill. The dredging of the St. Lawrence River sediments, along with a cap in areas where the cleanup goals were not met, was completed in 1995. From 2000–2004, GM remediated the inactive lagoons at the facility, excavating contaminated sludge and soils, stabilizing them and shipping to an offsite facility. The Raquette River bank soils and sediments were also remediated, and contaminated soils were removed at the toe of the slope of the Industrial Landfill, which reached out to the Raquette Point portion of the reservation. In 2004–2005 GM remediated Turtle Cove, which had been renamed "Contaminant Cove" by NY State Department of Environmental Conservation (NYSDEC) workers. The GM plant closed in May 2009, was bulldozed, and the remains shipped to an offsite landfill in 2011 (USEPA 2011). In 2013–2015 another four lagoons and two sludge pits will be cleaned up, and the edge of the landfill will be pulled back 150 ft from the shore of the St. Lawrence River and reservation boundary. The last of the general site cleanup and restoration activities will occur in 2016 (Arquette 2012). According to the EPA website, current human exposures at this site are under control but contaminated groundwater migration is not (USEPA 2012).
Methods
In order to explore how a Native American community located downstream from a Superfund site has been impacted by contamination and the ensuing environmental health studies, from March 2008 through April 2009 I interviewed 65 Akwesasne Mohawk community members, ranging in age from 25 to 90, with a majority (n = 41, 63%) in their 40s and 50s.d Eight participants were in their 20s to 30s, and 16 participants were older than 60. Those in their 40s and 50s were targeted, as they were the most likely to have taken part in the environmental health studies during the 1980s–1990s. Slightly over half of the interviewees (57%, n = 37) were women.
All interviews were semi-structured, lasted from 30–90 min and consisted of open-ended questions about the impacts of the environmental contamination on the community, fish consumption, and current health concerns. During these interviews, I asked 50 interviewees (18 men and 32 women, 68% in their 40s and 50s) directly about their fish consumption, as well as that of their families, and how this may have changed as a result of the fish advisories. It is from this sub-sample that the data for this paper are drawn. Questions included: Do you still eat fish? As much as you used to? If you stopped, or reduced your fish eating, at what point did you do so, and why? Were your changes due to advisories or because you noticed changes in the fish? Do members of your family all eat the same amount of fish?
I made contact with most interviewees through snowball sampling, and in addition approached two members of the SRMT Environment Division, two members of the MCA Department of Environment, and six individuals who were at some time affiliated with the grassroots organization Akwesasne Task Force on the Environment (ATFE). All interviews were recorded and transcribed with all identifying information removed to protect confidentiality if the interviewee chose this option. For those who did not choose to remain confidential, I received permission to use their names. In addition to interviews, detailed field notes were maintained during extensive visits to Akwesasne from 2007 to 2011. Transcripts and notes were then analyzed in NVivo 8.0, a program for qualitative data entry, coding, sorting, and retrieval. Data coding was done in an iterative fashion, with additional readings of the transcripts leading to additional codes as more was learned from the materials. Prior to conducting this research, I received approval from the Akwesasne Task Force on the Environment Research Advisory Committee, as well as the Brown University Institutional Review Board.
Conclusion
Human health in Native American communities is intimately tied to the health of the environment. Akwesasne Mohawks (Arquette et al. 2002:262) have defined health as "based on peaceful, sustainable relationships with other peoples including family, community, Nation, the natural world, and spiritual beings. Health is supported by the solid foundation of a healthy natural world." Human health in a community such as Akwesasne cannot be understood independent of the health of the natural environment, and especially in this case, the health of the fish.
When Mohawk mothers who participated in the breast milk study demonstrated that removing local fish from their diets decreased the PCB contamination in their breast milk, they showed that exposure to PCBs was avoidable, and thus according to conventional risk assessment the problem was eliminated. What was not predicted, and the reason why indigenous scholars such as Arquette et al. (2002) and Ranco et al. (2011) are calling for more holistic risk assessment, was that avoiding fish consumption had other health implications, both physical and cultural. For community members who continue to consume fish, this consumption is often socially fractured rather than part of a broader social context. As described above, fish is consumed along generational divides by Mohawks who see themselves as beyond their childbearing years, or "in private" as one woman described, in order to avoid judgment.
If the Akwesasne community is going to achieve optimal health, the contaminated environment has to be remediated to a level that supports clean, edible fish. This will not happen as long as fish advisories are considered an acceptable institutional control to protect humans from exposure to contaminants. The accepted culture around environmental cleanup must shift away from one of risk avoidance, a distributive justice situation where those who did not benefit from industry are forced to pay the price in order to protect their health. At the General Motors Superfund site in Massena, economic considerations were given priority over the health and culture of Mohawk people, in an attempt to secure a source of employment for the residents of Massena. Despite these efforts, and $49.5 billion in bailout money, General Motors filed for bankruptcy in June 2009 and spun off a holding company to handle its idle properties, Motors Liquidation Corp. When it emerged from bankruptcy, GM was freed of responsibility for rehabilitating dozens of toxic waste sites in 13 states where it had manufacturing plants. Revitalizing Auto Communities Environmental Response, or the RACER Trust, is an environmental trust that assumed ownership of 89 former General Motors properties and is tasked with completing remediation and selling off dozens of former GM properties, including the one adjacent to Akwesasne. The new General Motors, freed of its old liabilities, is struggling back towards success in the auto market, while the Massena town residents who fought to shelter the company from high cleanup expenses are left without jobs, and the Mohawk are left living adjacent to an industrial landfill that they suspect will continue to pollute their environment.
Researchers and environmental officials working in Akwesasne have stated that a new round of studies determining current contamination levels in the fish is necessary to determine the safety of local fish consumption. Researchers have additionally called for studies of the nutritional content of the fish in order to properly conduct a cost-benefit analysis as to whether the nutritional benefits of the fish outweigh the risks posed by contamination.
Once information about local fish is obtained, it could be disseminated via a model illustrated by DeWeese et al. (2009), who produced advisory maps for Anishnaabe communities that provided lake-specific, risk-based, culturally sensitive consumption advice on color-coded maps for two groups: children under age 15 years and females of childbearing age, and males 15 years and older and females beyond childbearing age. Because the maps were easy to read and developed in conjunction with community members, DeWeese et al. (2009) found they significantly increased the percentage of survey participants who indicated awareness of advisory information and increased preference for smaller walleye, which contain lower levels of contamination than larger fish. After future testing of Akwesasne's local fish population, similar maps could be produced and distributed as a way of making this information accessible to the community. At Brown University,f we are currently developing a project with the Narragansett Tribe in which local fish will be tested, and based on the results, cards will be developed and distributed to fishermen to keep in their tackle boxes to help them determine which species of fish to keep and which to toss back based on contaminant levels. We are also developing fish puzzles for families that help illustrate which parts of the fish are more or less contaminated in order to facilitate the consumption of the less contaminated portions. Each of these small projects described above can help a community to maintain some level of fish consumption rather than cutting it entirely from their diet, as most people at Akwesasne have even though environmental specialists in the community point to some alternatives. What should be highlighted though is that these alternate species and methods of preparation should not be considered as a solution, but rather a step along the process towards remediating environmental contamination to a level in which culturally preferred fish species and methods of preparation can be safely utilized again.
Akwesasne is a case where measures taken to protect community health—adherence to fish advisories to prevent exposure to contamination—have inadvertently led to diet-related health consequences as well as concerns around the loss of language, culture, and social connections attached to fishing. While Akwesasne community members, environmental specialists, and their allies in the scientific community are continuing to push for additional cleanup and fish sampling, this case should also serve as an example of why risk avoidance methods such as fish advisories should not be considered a viable long-term solution to preventing human exposure to contamination.
Endnotes
aThe Haudenosaunee, also known as the Iroquois or Six Nations, are a confederacy of nations traditionally from the region that is now New York State, but now spread across New York, eastern Canada, Wisconsin, and Oklahoma. The six nations of the confederacy include the Mohawk, Oneida, Onondaga, Cayuga, Tuscarora, and Seneca. Akwesasne is one of five Mohawk reservations, which also includes Kahnawake and Kanesatake in Quebec and Wahta and Tyendinaga in Ontario. The Six Nations reservation in Ontario is home to Mohawk people as well as Haudenosaunee people of the other five nations as well.
bAn estimate of Akwesasne's population is given because residents in this community are notoriously difficult to enumerate. Akwesasro:non have been suspicious of, and resistant to, national censuses, and some residents are enrolled with both the St. Regis Mohawk Tribe and the Mohawk Council of Akwesasne. This estimate was used in establishing the demographics of the community for the extensive health studies conducted by SUNY Albany (see for example Fitzgerald et al. 1998 and Schell et al. 2009).
cLactating women and women of childbearing age are to avoid all contaminated fish (carp, catfish and suckers). Adults should only eat one half pound per week of yellow perch, pumpkinseed, rock bass, whitefish, bowfin. Everyone should avoid carp, channel catfish, walleye, pike, red horse suckers, white suckers, and brown bullhead.
dParticipants were not asked their exact age. Some participants offered their precise age, others indicated a general age range (e.g., 50s) during the interview.
eA Mohawk community about 150 miles west of Akwesasne in Deseronto, Ontario.
fThe Community Engagement Core of the Brown Superfund Research Project, consisting of the author, Marcella Thompson, and Robert Vanderslice, working in conjunction with Dinalyn Spears, head of the Natural Resources Department of the Narragansett Indian Tribe.
Declarations
Acknowledgements
The author would like to acknowledge the Akwesasne Task Force on the Environment (ATFE) and members of the Akwesasne community who offered their time for these interviews. I would also like to acknowledge members of Brown University's Contested Illness Research Group for providing feedback on an earlier draft, and Dr. Nicholas Reo for guest editing this special issue. This research was funded by a National Science Foundation Cultural Anthropology Dissertation Improvement Grant, a Switzer Environmental Fellowship, a Lynn Reyer Tribal Community Development Grant and a Ford Foundation Dissertation Fellowship.
Authors' Affiliations
(1)
American Studies and Ethnic Studies, Brown University, Providence, USA
Copyright
© Hoover; licensee Springer. 2013
This article is published under license to BioMed Central Ltd. This is an Open Access article distributed under the terms of the Creative Commons Attribution License (http://creativecommons.org/licenses/by/2.0), which permits unrestricted use, distribution, and reproduction in any medium, provided the original work is properly cited.