Adopting novel ecosystems as suitable rehabilitation alternatives for former mine sites
Ecological Processes
2013
2:22
Received: 22 February 2013
Accepted: 25 June 2013
Published: 11 July 2013
Abstract
The nature and extent of environmental disturbance associated with mining commonly entails completely new and challenging combinations of climate, lithology and landform. Consequently, the outcomes of ecological processes associated with the recovery or restoration of ecosystems cannot be predicted reliably from previously known associations between their physical and biological components. For radically disturbed sites, we propose that it is not practicable to aim for the restoration of historical ecosystems. However, hybrid (reversibly different) or novel (irreversibly different) ecosystems comprising new combinations of physical and biological components, including both native and non-native species, could provide levels of stability and functionality acceptable to all stakeholders and within feasible management regimes. We propose that limiting physical conditions of the landscape can be identified and managed, and that alternative species combinations for introduction to these new landscapes may be considered with cautious optimism.
Keywords
Natural ecological analoguesNovel ecosystemsMiningLandscape suitability
Review
The goal for rehabilitation of mined land is often to restore the pre-disturbance land use or ecosystem (Queensland DEHP 2012), although different levels of biodiversity and ecosystem function can be negotiated between the mining proponent and regulator. In either case, it is commonly assumed that the essential physical resources assembled during the rehabilitation process—namely landform, lithology and soil—will closely resemble conditions of the pre-disturbance environment. While this assumption can be valid for certain degraded agricultural, forest or pastoral lands (Ferris et al. 2000; Chazdon 2008; Bullock et al. 2011; Tongway and Ludwig 2011), it may not be equally applicable to many mine sites, where there are radical changes to almost every component of the landscape as well as persistent non-natural landscape features (e.g. open-pits, waste heaps) (Cooke and Johnson 2002; Bens and Hüttl 2005; Norman et al. 2006; Herath et al. 2009; Tozer et al. 2012). Since land rehabilitation becomes increasingly more difficult with increasing size and severity of the disturbance impact, many authors have justifiably questioned whether targeting historical and/or pre-disturbance ecosystems (i.e. "going back to the past") is always the most appropriate restoration goal in these post-industrial environments, particularly within the range of feasible biological and socioeconomic outcomes (Harris et al. 2006; Choi 2007; Seastedt et al. 2008). Yet, finding suitable alternatives which meet the needs of conservationists, practitioners and regulators in light of these unavoidable challenges remains elusive (Jackson and Hobbs 2009).
The degree to which disturbances cause ir/reversible changes to ecosystems provides direct insight into the likelihood of rehabilitation efforts either achieving near/natural restoration versus developing hybrid systems (i.e. slightly different in form and function, yet sharing many attributes with the historical system) or even novel systems (i.e. new combinations of physical and biological attributes as a result of novel conditions within the post-disturbance environment) (refer to Endnote for details). This natural/novel ecosystems paradigm (pioneered by Hobbs et al.
2006
) and associated terminology (now defined by Mascaro et al.
2013
) are valuable for depicting the developmental pathways of a range of post-disturbance ecosystems and the management inputs required to re-instate (if practicable) the historical and/or pre-disturbance system (Figure
1
).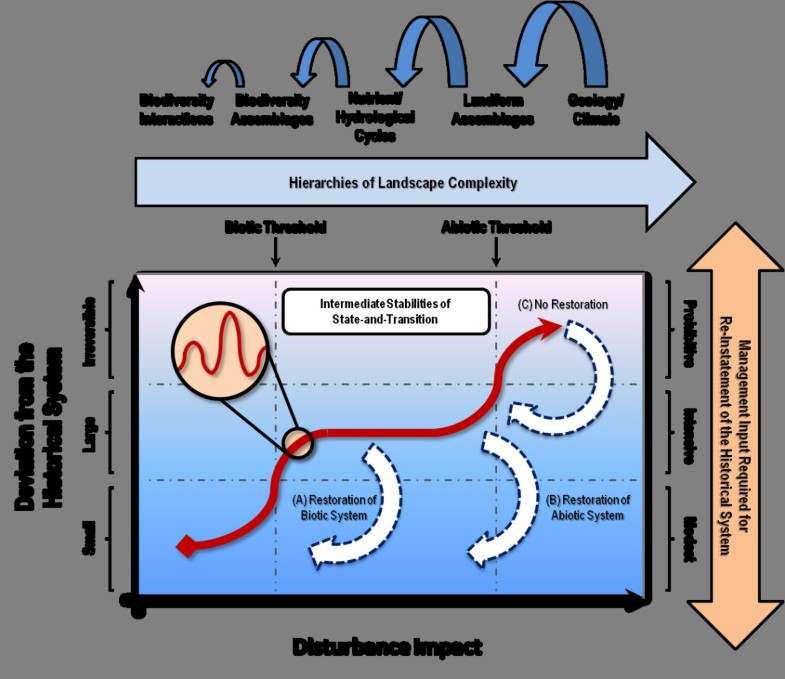 At the very least, this depiction recognizes potential barriers to achieving veritable restoration in relation to the requirements of rehabilitating landscape hierarchies of increasing complexity (e.g. biodiversity interactions < biodiversity assemblages < nutrient and/or hydrological cycles < landform assemblages < geology and climate). However, there has been some reluctance in approaching the rehabilitation of highly assertive anthropogenic activities from a similar perspective, possibly out of fear of lowering rehabilitation standards (see Perring et al. 2013 in this issue). This apprehension is especially acute regarding those lucrative industries, such as mining, that have drastic environmental impacts that impose high ecological liabilities and whose post-disturbance landscapes have so few parallels in the natural realm (Foster et al. 1998).
Doley et al. (
2012
) recently examined this dilemma within the Australian context for post-mining land rehabilitation and derived a framework (Figure
2
) to reconcile natural/novel ecosystems theory (Hobbs et al.
2006
,
2013
) with existing guidelines for land rehabilitation (e.g. Australia DIRT
2006
). Here, possible development pathways of post-mining landscapes were identified in relation to the severity of the disturbance impact and the design of rehabilitation approaches. Ecological and socio-economic scenarios were then described that extend the definition of novel ecosystems to the endpoints of mine site rehabilitation. In brief, it was proposed that, where both the abiotic and biotic systems are significantly and irreversibly affected, the carefully planned installation of alternative (managed) ecosystems or novel (unmanaged) ecosystems could represent achievable and predictable options for highly degraded, under-rehabilitated and/or derelict mine sites. A key advantage of this approach was that commitments to rehabilitation could be assessed and adjusted ad hoc based on the characteristics and limiting capacities of the post-disturbance landscape, while also providing opportunities for the incorporation of, e.g., novel ecosystem services and enhanced land-use value otherwise not found within the historical or pre-disturbance ecosystem (Bullock et al.
2011
). A pre-condition of this adaptive management approach is that all stakeholders (operator, regulator and community) are involved in setting and accepting the parameters for decision-making.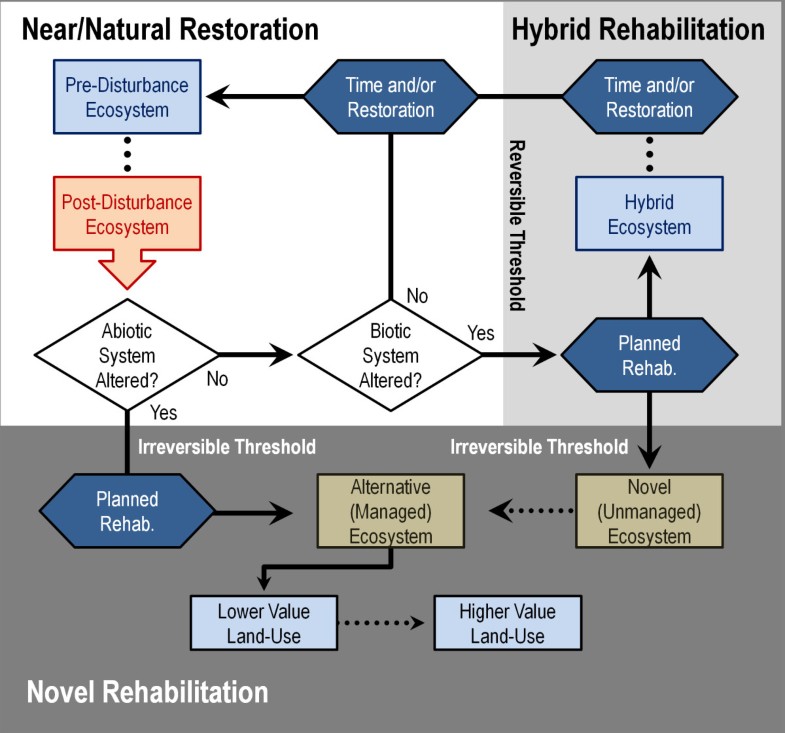 Albeit useful as a conceptual framework, this scheme cannot yet contribute optimally to the planning of mined land rehabilitation by operators and regulators unless objective descriptors can be used to determine the degree to which post-disturbance ecosystems may be considered natural or novel—and then to derive suitable management responses for such conditions. Hence, this analysis presents elements of landscape suitability (e.g. Tongway and Ludwig
2011
) and biological condition assessments (e.g. Eyre et al.
2011
) that may enable a choice regarding the development of post-mining ecosystems towards achievable rather than aspirational rehabilitation goals (Figure
3
). Whether these outcomes are deemed to be natural or novel, we emphasize that the primary outcomes should always aim to achieve the highest standards of biological conservation and ecosystem stewardship.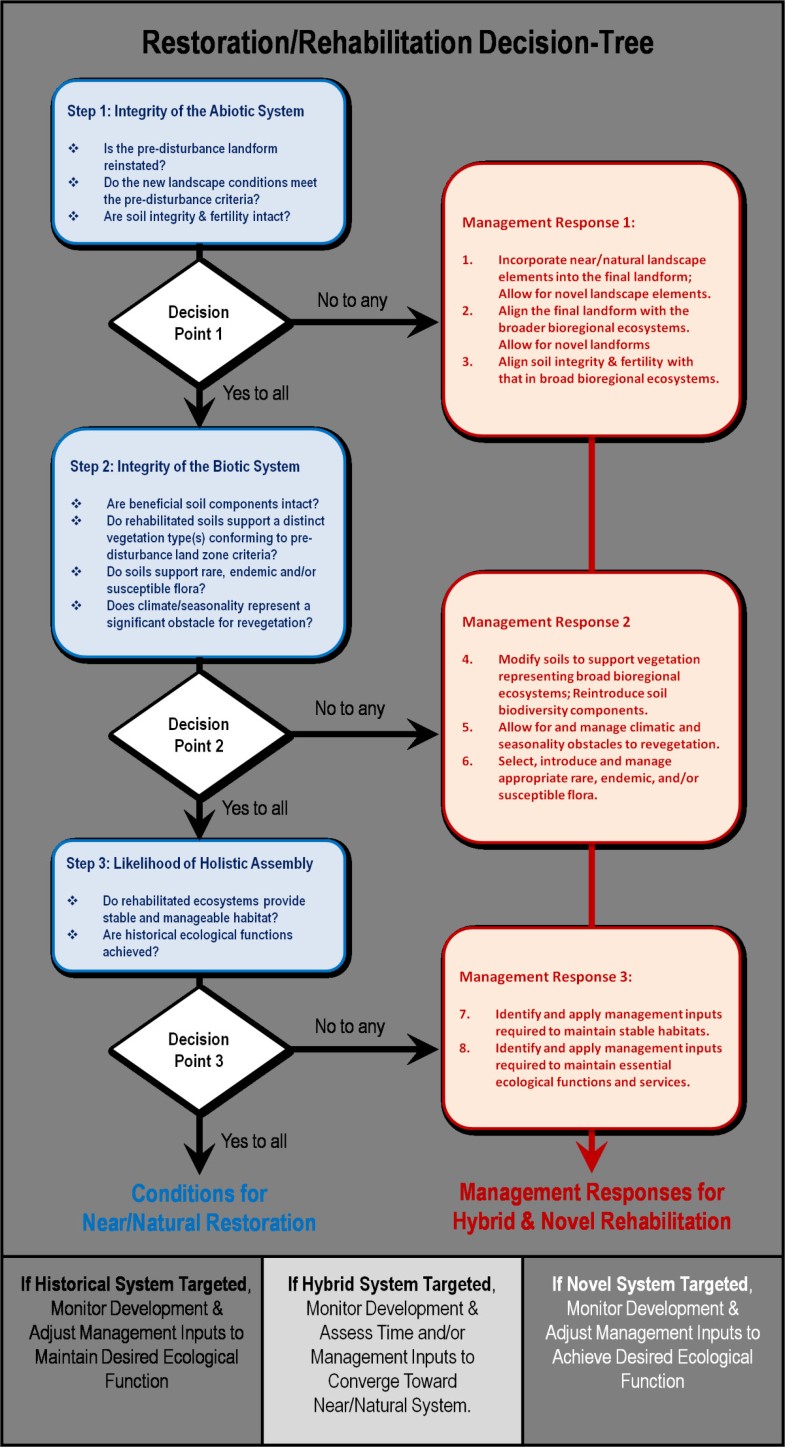 Setting mine site rehabilitation goals based on post-disturbance landscape assessments
The commonly used practice of nominating a particular vegetation association as an end-goal for land rehabilitation assumes that all of the required pre-disturbance attributes Table
1
can be reinstated. Indeed, this strategy provides a range of standardized criteria (e.g. biodiversity, structure, function) which could be used to monitor the trajectories of post-disturbance ecosystems toward desired reference communities. However, it is not clear that these conditions would be satisfied on many mine sites due to the size and severity of the mining disturbance, thereby putting into doubt whether achieving veritable restoration is at all possible. This could account (in part) for some of the onerous and often costly procedures required when applying conventional restoration approaches (usually reserved for less assertive disturbance impacts) to highly disturbed post-mining environments (Gardner and Bell
2007
; Koch
2007
). For these reasons, mined land rehabilitation planning would benefit from the identification of attainable condition descriptors of post-disturbance landscapes and a careful delineation of the range of ecosystems that may be established under these conditions. With this general approach, a decision tree (i.e. best supported by large datasets) can summarize the tests that identify conditions for restoration (
sensu
Hobbs et al.
2013
) and also the optimal management responses in cases where hybrid and novel ecosystems could represent more practicable rehabilitation outcomes (Figure
2
).
Table 1
Hierarchies of site information for analyses of functional landscapes †
| |  Factor |   Attribute |   Physical property | |
| --- | --- | --- | --- | --- |
| Is the abiotic system altered? | Geology* | 1. Consolidation | | |
| | | 2. Origin | | |
| | | 3. Mineralogy | | |
| | | 4. Texture | | |
| | | | a. Landform class | |
| | | | b. Landform pattern | |
| | | 1.Form | c. Landform element | |
| | | | d. Quantitative attributes | i. Relief |
| | | | | ii. Slope |
| | Landscape | | | iii. Texture |
| | | | a. Surface | i. Erosion |
| | | | | i. Deposition |
| | | 2. Function | a. Profile | i. pH |
| | | | | i. EC |
| | | | | i. nutrient status |
| | | | | ii. water status |
| Is the biotic system altered? | | | a. Height | |
| | | 1. Structure | b. Cover | |
| | | | c. Biomass | |
| | Vegetation | | a. Species richness | |
| | | 2. Composition | b. Diversity | |
| | | | c. Structural class | |
| | | 3. Condition | | |
| | Soil biota | 1. Abundance | | |
| | | 2. Diversity | | |
| | | 1. Abundance | | |
| | Fauna | 2. Diversity | | |
Conclusions
Rehabilitation of highly disturbed landscapes such as mine sites may not provide realistic opportunities for the ecological processes normally associated with ecosystem recovery to occur. Consequently, it may be more helpful to put aside theoretical considerations of ecosystem development to focus on the pragmatic requirement of securing conditions that are safe, stable and non-polluting, and that provide suitable environments for vegetation establishment and ultimately habitat development. The target ecosystems may be quite different from those that occupied the site prior to disturbance, and they may be difficult to discern at the planning stage of a mining operation. This lack of a clear rehabilitation goal necessitates careful analysis of the available evidence at each stage of planning and operations, and a willingness and capacity to adjust goals according to the best practice that can be achieved with the expectation that it will be overtaken in the future by something better.
The fact that some mine leases have been relinquished indicates that successful rehabilitation is possible. The fact that the number of abandoned, pending, dormant or inactive leases exceeds the number that have been relinquished shows that the path to mine site rehabilitation is not smooth or direct. We consider that the first requirement for rehabilitation is a careful analysis of the physical environment, followed by the identification and consideration of possible amelioration treatments, and the progressive development of a manageable final landscape—this, no matter whether it is defined as being natural, hybrid or novel. Regardless of the final landscape, we conclude that it will not become self-managing but will always require some intervention, ideally minimizing resource requirements while optimizing resource outputs or ecosystem services. Successful rehabilitation management depends on a continual increase in understanding of the system under management and an ability and willingness on the part of all stakeholders to achieve the optimum ecosystem outcomes.
Endnotes
The definition of ecosystem conditions associated with disturbance and recovery has been clarified greatly by Hobbs et al. (2013) and has evolved over a decade of consideration regarding assembly rules (Temperton et al. 2004) and the desirability of identifying stable ecosystems that are different from those pre-dating the disturbance (Hobbs and Norton 1996; Hobbs and Suding 2009; Hobbs et al. 2009) and that may be described as novel (Hobbs et al. 20062009) or alternative to historical ecosystems (Cale and Willoughby 2009). The terms used here derive from Mascaro et al. (2013) referring to ecosystems that are not: "(1) a [historical ecosystem] that would have occupied that space in the past (i.e. part of a historical range of variability); (2) a system managed intensively for specific production or built over; or (3) a [hybrid ecosystem] managed with the purpose of reproducing the historical ecosystem (i.e. classic restoration)." Central to this concept is the nature of thresholds between ecological states (Hobbs et al. 2009; Suding and Hobbs 2009), and whether transition across a threshold is reversible or not. Crucially, Hobbs et al. (2013) have proposed that novel ecosystems are an outcome of irreversible transfer across abiotic or biotic thresholds. Within a novel ecosystem, it is possible to have either biotic or abiotic conditions that are very similar to those of a historical ecosystem; however, restoration cannot be claimed to have occurred unless both abiotic and biotic conditions are sufficiently similar to those of a historical ecosystem. In order to guide activities on intensively managed lands, the goals of restoration or rehabilitation need to be clarified and, where possible, quantified; especially the feasibility of attaining a particular restoration or rehabilitation goal (Choi 2007; Bullock et al. 2011). As emphasized here, the same conditions apply perhaps even more forcefully to severely disturbed lands such as mine sites.
Glossary of ecological terms
Restoration: Intentional activity that initiates or accelerates the recovery of an ecosystem with respect to its health, integrity and sustainability.; Historical: Variation in ecosystem state that is within the historical range of variability.; Hybrid: Ecosystem state within which an ecosystem is modified from the historical state by moderate and reversible changes to characteristics involving loss or addition of species (biotic) and/or land use change (abiotic).; Novel: Ecosystem state within which systems have potentially been changed irreversibly by large modification to abiotic conditions (climate, geology, landform or land use) and/or biotic composition (loss of existing species or addition of invasive species).; Reversible threshold: A limiting ecosystem state at which a transition to a different state is possible with practicable management inputs.; Irreversible threshold: A limiting ecosystem state at which a transition to a different state is not possible without the application of large and possibly impracticable management inputs.; Stability: Variation in structure and condition within the historical range of variability.; Manageable ecosystem: One that can be maintained in a stable condition by intervention that is both practical and economical.
Declarations
Acknowledgments
The authors wish to thank the two anonymous reviewers and Guest-Editor (M Perring) for their beneficial commentary which contributed highly to improving this manuscript for publication. Special thanks are also extended to M Perring and RJ Hobbs for providing early access to the compilation book Novel ecosystems: Intervening in the new ecological world order by RJ Hobbs, ES Higgs and CM Hall (eds). This study was made possible by funding to P.Audet from The University of Queensland and the Natural Sciences and Engineering Research Council (NSERC) of Canada.
Authors' Affiliations
(1)
Centre for Mined Land Rehabilitation, Sustainable Minerals Institute, The University of Queensland, Brisbane (St. Lucia), Australia
Copyright
© Doley and Audet; licensee Springer. 2013
This article is published under license to BioMed Central Ltd. This is an Open Access article distributed under the terms of the Creative Commons Attribution License (http://creativecommons.org/licenses/by/2.0), which permits unrestricted use, distribution, and reproduction in any medium, provided the original work is properly cited.