Landscape architecture and novel ecosystems: ecological restoration in an expanded field
Ecological Processes
2013
2:35
Received: 6 May 2013
Accepted: 5 December 2013
Published: 26 December 2013
Abstract
Within the continuum of natural-to-novel ecosystems − i.e., from the 'pristine' to the greatly intervened − this paper emphasizes the role of design within highly modified ecosystems in areas of urbanization. It is argued that, as certain landscapes (particularly urbanized ones) can never be restored to original levels of historical ecological fidelity, they should be treated as both cultural and ecological landscapes. It is then proposed that these anthropogenic landscapes would be ready canvases for designed (or planned) novel ecosystems that could be inculcated with ecological function and systems delivery, yet having profound aesthetic manipulation. Based on this landscape architecture perspective, it is suggested that ecologists may not have fully explored cultural interventions in restoring landscapes, especially within the agency of design. A design strategy for the biological hotspot of Perth in southwestern Australia is then provided as a relevant example of how novel ecosystems can be designed. Without an acute and novel approach to modifying current development practices, Perth's biodiversity is on track for considerable deterioration. From this exploratory backdrop, it is elaborated how neo-baroque design strategies can be used for structuring ecological systems to create resilient and productive novel ecosystems grounded in a critical and autochthonous aesthetic of botanical complexity.
Keywords
Landscape architectureNovel ecosystem designOCBIL landscapesUrban ecologyTranslational strategies
Review
Introduction
"..[We] need to acknowledge that restoration is fundamentally a design practice." Higgs
Integrating novel ecosystems (vs. historical ones) as endpoints for ecological restoration has contentiously been proposed as a potential and more realistic outcome for addressing the seemingly unavoidable dilemma of 'restoring' ecosystems (sensu strictu) within the Anthropocenea. In this regard, much of the debate has justifiably centred around the viewpoint of biological conservation and environmental stewardship, and, e.g., whether novel ecosystems could represent innovative planning or a lowering of the bar for standards of restoration. As part of the multidisciplinary discourse endorsed by this journal, this paper approaches the debate from an altogether different field by elaborating on existing novel ecosystems from the perspective of landscape architecture, whereby these systems are viewed as platforms for cultural (human) engagement. Certain novel ecosystems (particularly those interfacing with modern urbanism) could be viewed as purposefully designed landscapes, which encompass both cultural and ecological values.
In addressing the design of novel ecosystems, landscape architecture represents an allied field in attempts to create and define translational strategies in the restoration of ecological function (Musacchio
2009
). Within its own aesthetic discourse, landscape architecture has evolved from one of scenographic intent (i.e., where the view or scene is the aesthetic driver) towards that of a systematic aesthetic based in McHargian roots (i.e., at times referred to as 'eco revelatory' in which landscape systems are the aesthetic driver) (Thayer
1998
; Windhager et al.
2010
; Howett
1998
; McHarg and Mumford
1969
)
b
. And so, under the assumption of an ecological continuum ranging from near-natural or 'wild' landscapes, having historic and ecological fidelity, to highly intervened and altered landscapes, which require extensive human management to sustain their ecological function, this paper focuses on the latter; more specifically, the decidedly modified and often erased ecosystems resulting from urbanization. This paper then proposes that these altered landscapes are a ready canvas for designed novel ecosystems to be inculcated with ecological function and systems delivery, yet having profound aesthetic manipulation (Figure
1
). It is suggested that ecologists may not have fully explored cultural interventions when attempting to restore disturbed landscapes, particularly within the agency of design. While this contribution may appear atypical for conventional ecological forums, the design discipline of landscape architecture may offer translational strategies for engaging and valuing human participation in ecological restoration by expanding the debate surrounding novel ecosystems to allied fields.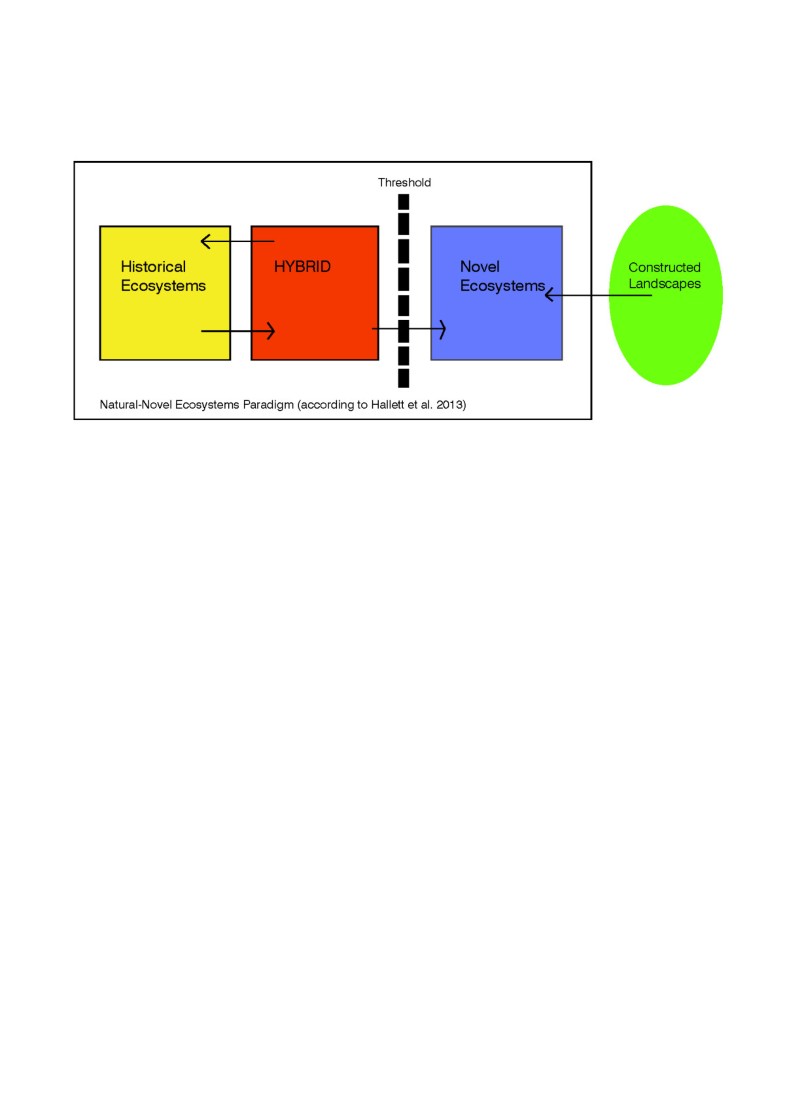 Designed ecology − novel ecosystems in an expanded field
Conclusions
Baroque ecologies: predictable outcomes or ecological conjecture?
In Duisburg-Nord, the industrial remnants were heavy and overwhelming, with ecological systems working around and between industrial (human) artefacts. In other landscapes with heavily modified ecologies – mining, salinity, urbanization – design can mark the hand of human intervention, but then return the landscape to an amalgamation of historic ecologies and cultural handprints. This design proposition, one of neo-baroque design strategies, must, like all experiments, be tested. Best practice for ecological restoration changes over time with increased knowledge and runs on the board. Ecologists are aware that spatial construction (the image of the landscape) does not necessarily predict ecological function (Doley and Audet 2013; Majer et al. 2013). A neo-baroque landscape ecology may seem to some scientists to be an extreme move. But with the decreasing footprint of landscapes with extant ecological systems, we collectively, scientist and maker of place, must find every means to regenerate ecological systems within both natural and cultural landscapes. While some may find the idea of a neo-baroque ecology to be one of hubris, close inspection will find a humility and respect for the particularities of Southwestern Australia's OCBIL landscape and its intricate systems. Design plays a role where ecological thresholds have been created through human intervention, such as salinity, mining or fragmentation. Equally, the baroque concept of meraviglia transcends professional boundaries and is often inherent in 'natural' landscapes. With an open and critical discourse as well as a professional cross-pollination of language, technique and strategies (here in landscape architecture and restoration ecology), there is the potential of increasing the footprint of landscapes capable of delivering ecosystem function.
Endnotes
aLandscapes containing new assemblies of abiotic or biotic system components and then forming stable alternative ecological states (Hobbs et al. 2006 Hobbs et al. 2009; Hobbs et al. 2013).
bIan McHarg's seminal book, Design with Nature, introduced landscape architects to a systematic method for 'reading' and interpreting landscapes. His layering method was an antecedent to Geographic Information Systems (McHarg and Mumford 1969).
cIn his global depiction of the biogeography and biodiversity of anthromes (i.e., anthropogenic biomes) and novel ecosystems, Ellis (2013) similarly refers to a continuum from wildlands (or wild habitat), through semi-natural anthromes (or novel habitat), to used anthromes (used rangeland, cropland, villages and dense settlements).
Abbreviations
OCBIL:

Old climatically buffered and infertile landscape
SWAFR:

Southwest Australian Floristic Region
YODFEL:

Young often disturbed fertile landscape.
Declarations
Acknowledgements
This title pays homage to Rosalind Krauss' seminal essay 'Sculpture in an Expanded Field' (Krauss 1979). As sculpture moved away from being solely three-dimensional works in a gallery, Krauss expressed the expanded field as lying between – 'not landscape' and 'not architecture'. I would like to acknowledge the open and generous discourse of the editors of this journal, Patrick Audet and Michael Perring. What merits they have found in this cross-disciplinary strategy, they have graciously underpinned with scientific enthusiasm and precision.
Authors' Affiliations
(1)
Faculty of Architecture, Landscape and Visual Arts, University of Western Australia, Crawley, Australia
Copyright
© Sack; licensee Springer. 2013
This article is published under license to BioMed Central Ltd. This is an open access article distributed under the terms of the Creative Commons Attribution License (http://creativecommons.org/licenses/by/2.0), which permits unrestricted use, distribution, and reproduction in any medium, provided the original work is properly cited.