The invasion of Prosopis juliflora and Afar pastoral livelihoods in the Middle Awash area of Ethiopia
Ecological Processes
2015
4:13
Received: 22 June 2015
Accepted: 28 September 2015
Published: 5 October 2015
Abstract
Introduction
An evergreen shrub, Prosopis juliflora is one of the most invasive species in arid and semi-arid areas. Since its introduction to the Middle Awash area of Ethiopia, it has invaded a huge acreage of grass- and rangelands which are life-supporting unit for Afar pastoralists.
Methods
Survey, using group discussion and questionnaire, was made to study the effect of P. juliflora invasion on Afar pastoral livelihoods. The obtained data were analyzed using Wilcoxon signed-rank test, chi-square analysis, and logistic regression.
Results
According to the result, 84 % of the total surveyed households rated P. juliflora as undesirable species even though the bush was often used for fuelwood, fencing homesteads, and barn and house construction. Invasion of P. juliflora was also blamed to limit transhumance, occupying settlement areas and affecting multipurpose trees/bushes and grass availability. All these effects put pressure on the livestock assets causing about 80 % livestock loss, testing the pastoral livelihoods heavily. Each household, on average, lost 6.5 small stock and 7 cattle during the past 10 years due to health hazards caused by P. juliflora pod. Consequently, P. juliflora as a source of income was considered by a quarter of the surveyed pastoral households, with the age of a household head and change in livestock asset being influential variables in decision-making.
Conclusions
In sum, P. juliflora invasion has made livestock rearing extremely difficult which raised pastoralists' ecological vulnerability in the fragile ecosystem they possess.
Keywords
Afar pastoralistsMiddle Awash area Prosopis juliflora InvasionLivestockLivelihoods
Introduction
Prosopis juliflora (Swarz) DC, commonly known as mesquite, is an evergreen tree/bush native to the Caribbean, Central and northern South America (Pasiecznik 1999). P. juliflora has a very wide ecological adaptability which can grow on soils from sand dune to clay soil, and from saline to alkaline soil type, below 200 to above 1500 m above sea level, and with a mean annual rainfall ranging from 50 to 1500 mm (Pasiecznic et al. 2004; Zeila et al. 2004). Because of the wider ecological adaptability, P. juliflora had been extensively planted in the 1970s and 1980s in deforested and desertification prone areas for reclamation as well as a source of fuelwood and fodder for rural community (Pasiecznik et al. 2001, 2004). However, despite the anticipated benefits, in many cases, it has remained being a major irritant for local people by interfering with resource use systems. The species has occupied millions of hectares of land which were under different land use systems in Australia, coastal Asia, and Southern and Eastern Africa (Sudanupdate 1997; Pasiecznik 1999; Catterson 2003). According to a report by Invasive Species Specialist Group (ISSG), Prosopis spp. is one of the top 100 invasive plant species (Lowe et al. 2004).
Invasive plants like P. juliflora are also characterized by vigorous growth which helps them to outcompete indigenous plant species to cover huge areas of land in a relatively short period of time (Manchester and Bullock 2000; D'Antonio and Kark 2002). The invaded lands could be of different use systems, such as rangeland and riverbank, to interfere with rural livelihoods activities by impeding land use system and incurring extra costs to check the expansion (Shackleton et al. 2006). When P. juliflora appears on grazing lands, it reduces grass cover and thereby affects stocking density (Pasiecznik 1999), and in severe cases, it can form impermeable dense thickets.
In Ethiopia, documentation is lacking regarding when, from where, how, and by whom the alien invasive P. juliflora was first introduced, but speculation exists. The earliest time of notice is believed to be in the late 1970s in the eastern part of the country where India is a probable source (EARO and HADRA 2005). If the speculation holds, the seed sources of P. juliflora for India and sub-Saharan Africa were with inferior phenotype and a non-palatable type (Alban et al. 2002). According to Kassahun et al. (2005), P. juliflora found in Ethiopia are thorny and mostly characterized by bushy growth nature, confirming the inferior quality of the introduced germ plasm. In the Middle Awash area of Ethiopia, P. juliflora was introduced some three decades before (personal communication with elders at Worer, Afar region). By that time, pastoralists were told about the multipurpose uses of the plant such as pods as an additional feed for their livestock, trunks as a source of fuelwood, and the plant itself as reclaiming degraded and salt-affected lands. Anticipating the benefits, the local people were willing and thus P. juliflora was planted over large areas in the region by campaigns like Food for Work Program until 1988 (EARO and HADRA 2005).
The purposeful planting has given the plant an opportunity to base in the Middle Awash area. Besides its inherent robust growth, the viable P. juliflora seeds surviving in livestock and warthogs' droppings serve as a vehicle for the plant to reach distant areas to have unchecked expansion throughout the region (Hailu et al. 2004). Currently, more than 30,000 ha of grasslands, rangelands, water points, and croplands are estimated to be occupied by P. juliflora in the Middle Awash area. The invasion is still continuing. These invaded resources are basically key resources for livestock rearing, which in turn are the main stay for Afar pastoralists in their fragile ecosystem. Therefore, the objective of this study was to assess the perception of Afar pastoralists of the Middle Awash area about P. juliflora invasion in the context of their livelihoods and also to investigate the effect of P. juliflora invasion on Afar pastorals' vulnerability to recurrent moisture stress the area experiences.
Methods
Study area and sampling
The study was conducted in the Middle Awash area, Northeastern Ethiopia (Fig.
1
). The altitude of the study area ranges from 500 to 820 m above sea level, and it is located between 9° 30′ and 10° 20′ N and 40° 30′ and 40° 50′ E. Livestock population of the study area is estimated to be 414,568 small stock (sheep and goats), 224,670 cattle, and 76,600 camels, and about 100,000 people live in the study area (data obtained from Pastoral and Agro-pastoral Bureau of the study area). Amibara, Awash Arba, Gewane, Halaideghe, Sideha-Faghe, and Worer areas were selected for data collection based on accessibility. Each of the selected sites has 5, 5, 4, 3, 10, and 11 pastoral villages, respectively, and 2 from each of Amibara, Awash Arba, Gewane, and Halaideghe areas, 4 from Sideha-Faghe, and 7 from Worer areas were selected using random sampling technique. The total households enumerated in the randomly selected villages were 452 with the following distribution: 56 (18), 41 (14), 64 (21), 76 (20), 87 (25), and 128 (44) households from Amibara, Awash Arba, Gewane, Halaideghe, Sideha-Faghe, and Worer, respectively, where the numbers in brackets show the number of households surveyed in each village.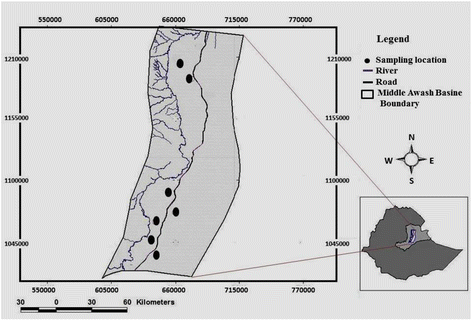 Data collection and analysis
Group discussion with community elders (five elders from Sideha-Faghe, Halaideghe, and Worer and four elders from Gewane area) was carried out before the employment of survey. Group discussion was made in August 2007, and survey was conducted both in August 2007 and 2012. Structured interviews, open- and closed-ended questions, were used to collect data. Group discussion checklists and questionnaire for household survey are found in Additional file 1. Personal observations were also used to understand the situations during the survey. In this study, the household served as a unit of analysis. Because of cultural norm, it is the household head who is expected to speak on the household's behalf. Most households were male headed, and even for the few widows, the matured son acted as head of the household. As a result, quite few respondents were females. However, housewives of most interviewed households were also involved in answering open-ended questions. During the survey, cards shaded with different colors in different proportions were used to ease answering questions having proportions as a response. Wilcoxon signed-rank test was done for matched-pair comparison between past and current individual household's livestock assets and chi-square analysis to compare frequencies.
Logistic regression was also used to identify influential variables to use P. juliflora as a source of income and for diversification of livelihood strategies in a given household. In the logistic regression, logit model was estimated using maximum likelihood method for predefined explanatory variables. The livestock asset of each household in the regression model was measured by tropical livestock unit (TLU). TLU commonly takes 250 kg live weight as a standard of unit, and accordingly, the TLU conversion factor for camels, cattle, and small stocks is 1, 0.7, and 0.1, respectively (Jahnke 1982). Worer was used as a reference place as it is a source of P. juliflora for the rest of the locations in the study area.
Discussion
Majority of the pastoralists realized the presence of P. juliflora in the Middle Awash area about 30 years ago. In all the surveyed villages, pastoralists use P. juliflora as homestead hedge/fence and for fuelwood. However, most women complained about pricking by the thorn during fuelwood collection and also the deterring smoke P. juliflora wood has while using it for cooking, especially when the wood is wet. On top of these, according to the respondents, structures of fence, house, or barn made from P. juliflora (Fig. 2) collapse sooner than those made from indigenous sources like adengali (C. rotundifolia), e'ebto (A. tortilis), and kasalto (A. nilotica). The reason given was that wood from P. juliflora is very susceptible to wood-boring insects which makes structures made from it collapse sooner. Most of the uses of P. juliflora were abundant driven; otherwise, according to the respondents, they would prefer to use indigenous plants.
P. juliflora invasion has affected fodder/feed availability on grazing lands of the Middle Awash area. Studies showed that encroached grazing lands have low stocking capacity and reduced herbage yield (Mugasi et al. 2000; Moleele et al. 2002; Angassa 2005). In the case of P. juliflora, its effect on grazing lands can reach to an extent of turning pasture lands into totally unusable bush lands (Getachew 2002; Hailu et al. 2004). Apart from its effect on grazing lands, P. juliflora pod causes twisted neck and dental disfiguration (called Armeko) of cattle and goat/sheep resulting in livestock losses. Armeko, based on the respondents, is severe during drought season as the livestock heavily depend on P. juliflora pods for survival. Similar problem was also reported by Esther and Brent (2005). Tabosa et al. (2006) observed that prolonged consumption of P. juliflora pod affects cranial nerves, controlling neck muscle, of cattle. In spite of these effects, the pod is nutritionally rich (Benedito 1988; Pasiecznic et al. 2004; Esther and Brent 2005), and livestock can depend on it to survive drought season (Ellis and Swift 1998). Nevertheless, the experience of the Afar pastoralists is, unless the pod is mixed with other feeds, solely dependent on P. juliflora pod during drought can be lethal for livestock.
It is true that for pastoralists, livestock and pasture are key components of their livelihoods. As a result, factors affecting accumulation of livestock assets and access and claim to grazing lands have direct implication on pastoralists' sustained existence (Chambers and Conway
1991
). As the scale of encroachment of invasive species increases, its effect on the supply of ecosystem goods and livelihood activities also increases (Siges et al.
2005
; Gemedo et al.
2006
; Shackleton et al.
2006
; Angassa and Oba
2008
). In the Middle Awash area, majority of the households perceived that more than half of their grazing land is occupied by
P. juliflora
. During the survey, I also realized that a significant proportion of grazing lands were already encroached by the plant as shown in Fig.
3
. The invasion forms impermeable, dense thickets, reducing grass cover of grazing lands. Despite this, it was the extended fodder/forage source areas which would guarantee the existence of pastoralism in their fragile ecosystem.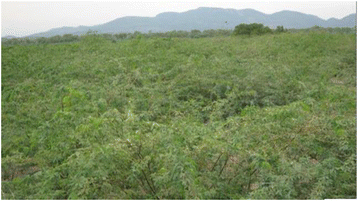 The other problem associated with P. juliflora invasion is its hindrance on transhumance, a seasonal migration for search of feed. However, transhumance is one of the risk management strategies used by pastoralists to maintain their livestock asset. Transhumance allows marked recovery of grazing lands due to de facto "protected" grazing and also enables optimum utility from the grazing lands (Western and Nightingale 2002). Following the introduction of P. juliflora to the Middle Awash area, grazing lands of different seasons have been invaded, limiting transhumance to a maximum. The limitation in transhumance has in turn resulted in overgrazing of remained pasture sources leaving pastoralists with low number of stocks. Similar problems were also reported in Kenya and India (Gavali et al. 2003; Esther and Brent 2005). As a result, the pastoralists' resilience to environmental uncertainties is impaired by raising their ecological vulnerability (Swallow 1994; Mariara 2005).
Generally, the accumulation of livestock asset by pastoral communities helps them to minimize and absorb risks (Swallow
1994
; Little et al.
2001
; Moritz
2013
). Pastoralists keep their most valuable livestock and sell the others for absorbing risk, and at the end, they sell their most valuable animals to ensure their survival (Swallow
1994
). When it comes to Afar pastoralists, it appears that they were better off before
P. juliflora
invasion (Fig.
4
). According to Seid (
1994
), a purely pastoral household in the Middle Awash area needs on average 80 small stocks, 41 cattle, and 27 camels to meet the needs of the household, which may guarantee to rebuild stocks after drought or other shocks. Nonetheless, the average current holdings of livestock (5.4 camels, 10 cattle, and 17.8 small stocks; Fig.
4
) are by far lower than what was mentioned by Seid (
1994
), implying that total dependency on livestock rearing as a sole source of livelihood is difficult nowadays.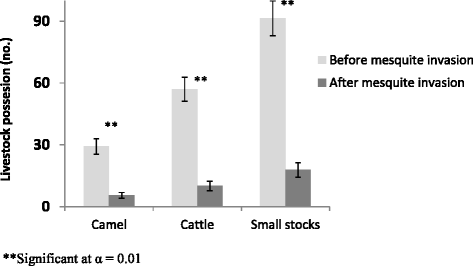 The P. juliflora's effect on the life-supporting unit of pastoralist, grazing land, has made sole dependency on pastoralism less likely. Measures, such as cultivation of land, share cropping, formal employment in mechanized farms and other organizations, and engaging in casual labor and small trade have been taken by Afar pastoralists to secure their livelihoods. Pastoralists use various adaptive risk management strategies to enhance their resilience and secure their livelihoods when sole dependency on livestock is in question (Swallow 1994; Little et al. 2001).
Conclusions
In conclusion, in the Middle Awash area, P. juliflora is a strong competitive bush with low beneficial traits for Afar pastoralists. The bush has reached a level to impair the pastoral livelihoods in different ways like (a) reducing pasture availability; (b) inhibiting mobility; (c) having poisonous thorn for both the people and their livestock; (d) having pods posing health hazard for livestock; and (e) threatening traditions and institutions. The effects mentioned are interlinked and interacting with one another to heavily test pastoral way of life in the Middle Awash area putting them extremely vulnerable to environmental uncertainties.
Declarations
Acknowledgements
I wish to thank Professor Fred Håkon Johnsen of the Department of International Environmental Studies, Norwegian University of Life Sciences for his help in my inquiries. I wish to thank the Norwegian State Educational Loan Fund and Ethiopian Institute of Agricultural Research for providing the resources. I also wish to thank the managing editor and the anonymous reviewers for their constructive criticism.
Open AccessThis article is distributed under the terms of the Creative Commons Attribution 4.0 International License (http://creativecommons.org/licenses/by/4.0/), which permits unrestricted use, distribution, and reproduction in any medium, provided you give appropriate credit to the original author(s) and the source, provide a link to the Creative Commons license, and indicate if changes were made.
Authors' Affiliations
(1)
Natural Resources Research Division, Werer Agricultural Research Center, Ethiopian Institute of Agricultural Research (EIAR), Addis Ababa, Ethiopia