Land use change in highland area and its impact on river water quality: a review of case studies in Malaysia
Ecological Processes
2018
7:19
Received: 5 January 2018
Accepted: 14 April 2018
Published: 5 May 2018
Abstract
The policy of encouraging agriculture and development for mass tourism has led to environmental problems in Cameron Highlands, Malaysia. Rampant development and land clearing have significantly altered the land cover of Cameron Highlands for the past 30 years. Sensitive highlands areas are prone to landslides and soil erosion which then contributed to the main water pollution issues in the network of river system, sedimentation and siltation. The continuous trend of river water quality deterioration in Cameron Highlands has raised the issues for discussion in this review article. The purpose of this review is to briefly summarize the land use change, agriculture practices, agro-tourism, and agriculture policy and management toward water quality of the river system network in Cameron Highlands specifically in the downtown where most of the development and agriculture activities are concentrated. A rigorous review has been done on the existing literature to determine the relationship between land use change and agriculture practices toward river water quality in Cameron Highlands from 2001 to 2017. The total number of reviewed papers was 68. The outcomes established from previous researchers have highlighted factors such as soil erosion, landslides, agriculture activities, urbanization, and unplanned development associated with land use change have significantly influenced the river water quality in the highland areas. Continuous land use changes without proper development plan and law enforcement may critically threaten the sustainability of river network in the highlands area.
Keywords
AgricultureRiver water qualityHighlandsLand useSoil erosionCameron Highlands
Introduction
Land use is the utilization of land resources by humans for various land activities and purposes such as for recreational (park), transport (road and railway), agriculture (farm), residential (housing and settlements), and commercial (business and factories) (Rendana et al. 2015). Land use/land change (LULC) alter the natural ecosystem services via (1) modifying the ecological structure and functions, (2) influencing human demand for ecosystem services, (3) affecting the non-natural capital (e.g., infrastructure) providing human access to ecosystem services (Sonter et al. 2017).
Highland regions act as water catchment and serve as the main hydropower generation sources for lowland. It also provides water resources for agricultural, industrial, and domestic use downstream (Roozitalab et al. 2013). The areas that have elevation more than 1000 m are categorized as mountains, 100 to 1000 m as hills, and 30 to 100 m as developable land (Gasim et al. 2009). According to Malaysia Islands and Highlands Development Guideline, any forest lands situated 1000 m above the sea level are classified as reserved forest or catchment forest land. Thus, any land clearing is prohibited in this area as it is an environmentally sensitive area (Tan and Mokhtar 2011). Moreover, high altitude results in higher rate of chemical loss from soil erosion into the river (Saadati et al. 2012) and cultivation on steep slopes areas triggered soil erosion (Lantican et al. 2003). Common steps in opening new land for agriculture are land clearing, burning, land leveling, terracing, bed preparation, and planting (Aminuddin et al. 2001). Agriculture practices done in fragile highlands area especially in steep slopes tend to cause an on and off farms pollution toward the environment (Barrow et al. 2009).
In Peninsular Malaysia, the main highlands regions including Upper Perak-Galas, Upper Pergau, Upper Kinta-Jelai, Upper Jelai-Tahan, Upper Selangor-Semantan, and Upper Endau-Rompin (Rozimah and Khairulmaini
2016
). Cameron Highlands is the smallest district of Pahang bordering Kelantan on the north, Perak on the west, and Lipis district on the south-east (Fig.
1
). The total area of Cameron Highlands is 71, 225 ha comprising of three main sub-districts (
mukim
) which are Hulu Telom (63, 990 ha), Ringlet (5, 165 ha), and Tanah Rata (2070 ha). Cameron Highlands is one of the most famous retreat locations in Malaysia located in the high-elevation central of Titiwangsa Range, where the highest peak is Gunung Irau (2110 m). Approximately, more than 74% of the total area has an elevation of more than 1000 m with a cold climate and scenic landscape. According to Cameron Highlands Local Development Plan (RTD
2018a
), almost 29% of the land in Cameron Highland are having steep slopes with a gradient greater than 25° (18,226 ha, 26%) to 35° (2039 ha, 3%). Areas with steep slopes exceeding 25° have a high risk of soil erosion and are not suitable for development (Aminuddin et al.
2001
; RTD
2018a
). Located in a highland elevation, the average temperature of Cameron Highlands is between 17 °C and 20 °C all year round. However, the local temperature has risen up to 5 °C in 2014 compared to the past 15 years (RTD 2003). Maximum rainfall (wet season) is during October to November and April to May while minimum rainfall (dry season) is during January to March and June to August. There are three main rivers that flow across Cameron Highlands which are the Telom River (37 km) at the north, Bertam River (20 km) at the middle, and Lemoi River (16 km) (Fig.
2
). All these rivers flow eastward to form the Jelai River which then fused with Tembeling River and form Pahang River (459 km), the longest river on Peninsular Malaysia and drains into the South China Sea (Khalik et al.
2013a
; RTD
2018a
). On the westward, the rivers are being drained into the Perak River into the Straits of Melaka. This complex river system consists of 123 tributaries particularly located within the Telom River and Bertam River. These rivers serve as freshwater sources, hydroelectricity generation, and irrigation for agriculture purposes and are for recreational activities (Gasim et al.
2009
). Tourism and highland agriculture are the main economies driven in Cameron Highlands.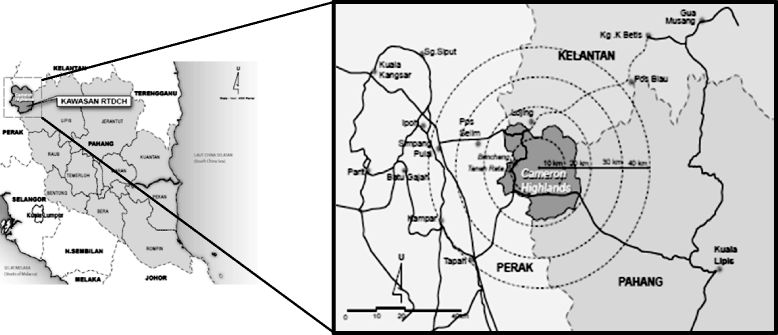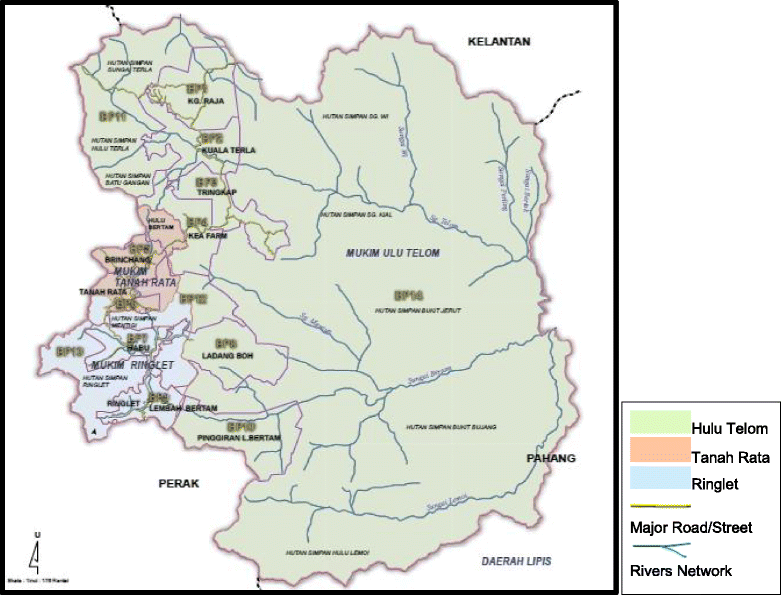 In 2015, there was an almost 3% reduction on forest coverage in Cameron Highlands, and the land use for agriculture activities has increased. Inefficient law enforcement have cause many illegal land clearings, which trespass the forest reserve and riverbank areas, and unsustainable developing methods (e.g., farming on steep slopes, rain shelter, installation of irrigation pipes on the road sideways and in the slope, excessive usage of pesticides and fertilizers, soil erosion and high sedimentation rate in riverbed) have create major ecological disturbances in Cameron Highlands (Raj 2002; Aminuddin et al. 2005; Barrow et al. 2009; Khairulmaini and Fauza 2010; Mohd Ariffin et al. 2014; Weebers and Idris 2016).
National Audit Report 2012 in RTD 2030 has highlighted several issues of agriculture development of Cameron Highlands (RTD 2018b). Intensive land clearing and deforestation for agricultural activities were reported in this area where most of the agricultural activities were operated illegally without the permission of the authority. There also issues of poor collaboration and coordination between authorized stakeholders (i.e., land and mines office) on the granting of permits and approvals for land use even in the sensitive and high-risk areas, although the action does not comply with the conditions according to the environmental department and the department of water and drainage. Furthermore, inadequate law enforcement action on trespassing and illegal activities in this area had caused the agricultural activities to continue breaking the laws. This has been proven by satellite images, where the land clearing for a new development of the agricultural area has exceeded the permitted area by the authority.
The objectives of this review were to explore the connections between the land use activity, agriculture practices, agro-tourism, and agriculture policy and management with the water quality effects in the river network of Cameron Highlands. The continuous deterioration of the river water quality in this area has become the major concern especially when it can affect human health as well as the environment.
Methodology
A rigorous review has been done in the existing literature. This article explores the impact of land use changes, agriculture practices, agro-tourism, and agriculture policy and management toward the river system in highlands area, Malaysia. The total numbers of paper reviewed were 68. The literature search was performed through major scientific literature databases including Scopus, Science Direct, Springer, Google Scholar, and EZproxy UPM library search engines with the following keywords: Cameron Highlands, Bertam catchment, water quality, water quality index (WQI), physicochemical, agriculture, and land use. From this search, we focused on the papers which are directly empirical and related with the keywords via detailed screening. There are no field data collections or laboratory water quality analysis involve in this study.
Study recommendations
Many efforts have been made to address the land use changes in Cameron Highlands. For example, intensive agriculture census throughout farming areas in Cameron Highlands was conducted by the DOA in 2017. This systematic mapping was done through Geographic Information System (GIS) to identify illegal farms and facilitate the continuous and periodic monitoring activities in the future. The authority is also actively conducting an inspection and law enforcement to combat illegal land encroachment activities in Cameron Highlands. This operation is led by the NSC and has been in the fourth year now since started in 2014. This is a continuous effort done by the authority till present (Kannan 2018). The implementation of this operation is in line with the conservation efforts done to reduce the effect of land use activities in Cameron Highlands. A flood mitigation project in Bertam Valley also has been implemented in 2015 which serves as an effective water catchment area to avoid soil erosion that triggers flood and mudslide especially during a heavy downpour (Maharan 2015).
Many more strategies and proposals have been suggested in the RTD 2030 to address land use changes in this area. For instance, a strategy was designed to improve land use planning, disaster risk management, and the nature in Cameron Highland (RTD 2018b). Planning also was done focusing on to produce a sustainable highland tourism activity through sustainable agricultural management. This particularly in addressing sustainable development with the main idea is to restore the glory of Cameron Highlands as a prosperous and sustainable highland area. The planning is also focusing on effective governance in this area.
Many efforts and strategies have been outlined. However, challenging hilly geographical factor and topography may be a limitation for a comprehensive strategic action plan. Nevertheless, ongoing efforts should be continued such as more efficient and strict law enforcement, frequent and continuous monitoring for illegal land clearing for agriculture activities, continuous monitoring of sustainable and good agriculture practices, and civic awareness among local communities especially farmers to dispose organic agricultural wastes and pesticide bottles to proper places and not into the river. Surely, all these efforts involve the two-way participation from authorities as well as the local community. This is important in order to avoid any risk of natural disasters that could lead to life threatening and high-cost overhaul work after the disaster and also may affect the economy of Cameron Highlands which is generated mainly by agriculture and tourism. The efforts undertaken by the government should be necessary and crucial to curbing the environmental issues. However, it should be noted that these efforts involve short-, medium-, and long-term plans and definitely cost millions of Ringgit with high-capital investment. Therefore, every strategic plan should be implemented in detail, transparent, and effective to achieve satisfactory results.
Conclusions
Rampant land clearing for agriculture and urbanization purposes have shown a negative impact on the fragile highlands ecosystem. Massive forest shrinking to make way for large-scale land clearing was reported. Studies provide evidence that land use change, unplanned development, and unsustainable agricultural activities have directly and indirectly deteriorated the quality of river water system in the Cameron Highlands. Improvement of the existing laws and regulations enforcement is important to control the effect of intensive agriculture activity to the natural beauty of the highland area and at the same time able to secure benefit and productivity of farmers. Highland natural areas provide important ecological services to humans and the environment. Environmental conservation is crucial to ensure the sustainability of an area to avoid loss of ecological resources. The wrecking of the natural forests has its repercussion and is apparent with the numbers of tragedies that occur over time in Cameron Highlands such as mud flood, soil erosion, landslide, water treatment plant pollution, and rise in local temperature which are some classic examples of unsustainable agriculture development. This is to reduce the human-environment conflict and achieve reciprocal benefits between these two entities.
Abbreviations
Al:

Aluminum
As:

Arsenic
ASL:

Above sea level
AWF:

Average water flow
BDL:

Below detection limit
BOD:

Biochemical oxygen demand
Ca:

Calcium
Cd:

Cadmium
Co:

Cobalt
COD:

Chemical oxygen demand
Cr:

Chromium
Cu:

Copper
DO:

Dissolved oxygen
DOA:

Department of Agriculture
EC:

Electrical conductivity
EIQ:

Environmental impact quotient
Fe:

Iron
GAP:

Good Agriculture Practices
GIS:

Geographic Information System
HWF:

High water flow
IPM:

Integrated Pest Management
K:

Potassium
LULC:

Land use/land change
Mg:

Magnesium
Mn:

Manganese
MyGAP:

Malaysian Certificate Scheme for Good Agriculture Practices
MyORGANIC:

Malaysian Organic Scheme Certificate
Na:

Sodium
NDWQS:

Malaysia National Drinking Water Quality Standard
NH3-N:

Ammoniacal-nitrogen
Ni:

Nickel
NO3-N:

Nitrate-nitrogen
NSC:

Malaysian National Security Council
OCPs:

Organochlorine pesticides
Pb:

Lead
PO4-P:

Phosphate-phosphorus
Rn:

Radon
RTD:

Rancangan Tempatan Daerah/Local Development Plan
SALM:

Skim Amalan Ladang Baik
TDS:

Total dissolved solids
TN:

Total nitrogen
TOLs:

Temporary Occupation Licenses
TP:

Total phosphorus
TSS:

Total suspended solids
WHO:

World Health Organization
WQI:

Water quality index
WTP:

Water treatment plant
Zn:

Zinc
Declarations
Acknowledgements
The additional information and data on the study area are provided by local authorities including Department of Agriculture Cameron Highlands, Department of Irrigation and Drainage Cameron Highlands, District Council Cameron Highlands, and District and Land Office Cameron Highlands. The authors would like to thank them for supporting this work. All opinions expressed in this paper are the authors' and do not necessarily reflect the policies and views of the local authorities. The reviewers' comments and suggestion have help to improve an earlier version of the manuscript.
Funding
Financial support for this study was provided by the National Hydraulic Research Institute of Malaysia (NAHRIM) and Sumitomo Foundation Research Grant (Reg. No. 168401-41).
Availability of data and materials
All data generated and analyzed during this study are included in this published article.
Authors' contributions
AR conceived and designed the manuscript. SNSI checked and corrected the content. SA contributed the analysis tools and checked the final draft. SMP and EZA checked the final draft. All authors have read and approved the final manuscript.
Ethics approval and consent to participate
Not applicable.
Competing interests
The authors declare that they have no competing interests.
Publisher's Note
Springer Nature remains neutral with regard to jurisdictional claims in published maps and institutional affiliations.
Open AccessThis article is distributed under the terms of the Creative Commons Attribution 4.0 International License (http://creativecommons.org/licenses/by/4.0/), which permits unrestricted use, distribution, and reproduction in any medium, provided you give appropriate credit to the original author(s) and the source, provide a link to the Creative Commons license, and indicate if changes were made.
Authors' Affiliations
(1)
Department of Environmental and Occupational Health, Faculty of Medicine and Health Sciences, Universiti Putra Malaysia, Serdang, Malaysia
(2)
River Basin Research Centre, National Hydraulic Research Institute of Malaysia (NAHRIM), Seri Kembangan, Malaysia